Pride of the Prairie Farmers' Market and Fall Feast Presented by the University of Minnesota Morris and the Land Stewardship Project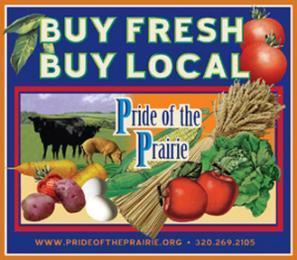 The University of Minnesota Morris annual Pride of the Prairie Farmers Market and Fall Feast was another venue that presented What Will Be in the Fields Tomorrow? as a part of a larger program in March, 2006.Thirteen area farmers and students participated as cast members. This group gathered the evening before with Voices Project co-coordinators Julie Avery and Cynthia Vagnetti for a two hour rehearsal. Following the presentation the next day, humanities scholar Vicki Graham, faculty member at UMM, responded to the issues and led the audience in a conversation exploring topics and conflicts brought out by the script.
Audrey Arner of Moonstone Farm facilated bringing Fields in as a part of the programming. Audrey and Cynthia Vagnetti had worked together on the Voices of Minnesota Farm Women documentary in 2005.
"As an editor, I hope that my eyes helped ground the script in real farmers' expression and perception. Cynthia's got an incredible knack for finding that kind of authenticity (for a non-farmer), but I enjoyed being able to contribute in a way that reacted to some conversation that Barbara [Carlisle] developed.


As in Land Stewardship Project's experience with community discussion guidelines and talking points following presentations of Nancy Paddock's Planting in the Dust, a good amount of quality thought has gone into preparing the reactive aspect of Voices so that an audience will viscerally take up the issues at hand and make them part of their waking and decision-making consciousness. These important dialogues are instrumental in raising concerns not only between farmers and non-farmers, but also between different kinds of farmers to understanding how to move forward toward what is best for us all."
Ninety-three percent of a small audience of 27 stayed for the talk-back and completed surveys. Discussion on how to inspire young people to want to farm and the identification of a need for more of an inclusion of convention agriculture surfaced and were later incorporated into the script.
Comments included:
"A balanced view!" "Really keeps your attention!"
. . . particularly held my attention. . .
"Recognition of migrant workers."
"The 2 older women and the dilemma of passing on the farm."
"The balance of voices, ages, roles and connections with farming."
. . . as a tool for public education. . .
"For those unfamiliar with sustainable agriculture it is a way to introduce them to new worldviews."
University of Minnesota Morris Pride of the Prairie www.morris.umn.edu/ummnews/View.php?itemID=1649
Land Stewardship Project
www.landstewardshipproject.org