The First Public Reading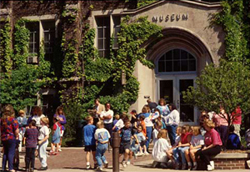 Twenty-two people invited by the Rural Life and Culture Programs attended knowing they were going to participate in a public reading and dialogue. Audience members from a two county area included: farmers –one a woman who had just established a trust to preserve her farm, Extension educators, agriculture faculty, arts education specialist, Michigan Oral History Association, Ingham County Fair, and museum staff. The readers were drawn from this audience.
Written survey and talk-back comments primarily addressed specific word changes --not made because of our intent to stay true to the language of the original speakers. Several questioned the validity of the science behind two segments, and though we knew the speakers believed in the accuracy of their reflections, we agreed that these items had to go because we could not back them up. One person asked persuasively for globalization, energy use, and regionalism to be included particularly as they generate conflicts for the future. This feedback inspired new dialogues for the script. Enough people mentioned the question of more "balance" to let us know that we had to strengthen the voices of conventional agriculture to make the presentation more credible.

www.museum.msu.edu